Description
Hi-Tech Pharmaceuticals Halotestin 60 ct | Prohormone Supplement
Looking to gain some serious strength, hardness and some size? Halotestin can help you get there! Hi-Tech Pharmaceuticals has just come out with their newest product: Halotestin! Halotestin is a very potent anabolic agent. Halotestin absolutely excels when it comes to boosting strength & size, making it great for bodybuilding. It also provides extra drive and energy which can be extremely helpful pre-contest and powerlifting. 
The formula includes 17beta (3ketoethyl)-androstane-3-one, 17a-ol at 10mg, which is an anabolic progestin. HydroxyProgestins are a new class of prohormones that aid in muscle growth. The 4-androsten-3B-ol-17-one at 50 mg, also known as 4-Andro, is considered a "wet-gainer" because as it converts to testosterone there is a chance of estrogen conversion, meaning there may be water retention. It also has the power to increase muscle mass, sex drive as well as energy. 3B-Hydroxyetioallocholan-17-one at 75 mg, also known as Epiandrosterone, which is a popular cutting prohormone, that can increase dry, lean gains, vascularity as well as sex drive.
Benefits
Increased Testosterone Levels, Libido & Sex Drive
Extremely Potent Anabolic Agent
Boost in Strength & Size
Fat Loss
Hard & Lean Muscle Gains
Increase Strength Gains
Improves Vascularity
Enhances Endurance & Recovery
Dosage
Take one (1) tablet in the morning and one (1) tablet in the afternoon.
Is Halotestin a Steroid?
Halotestin is a legal prohormone. It is not the same as Fluoxymesterone. 
Is a PCT Necessary? 

A PCT is strongly recommended. Hi-Tech Pharmaceuticals Arimiplex is a great option. 
Does this increase your libido?
Halotestin can increase your libido. 
Does this cause water retention?
Halotestin may cause water retention. 
Stacks:
Ingredients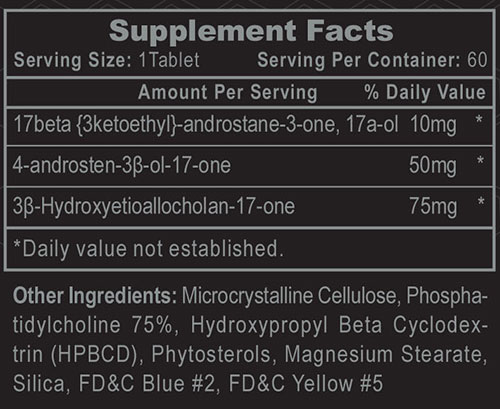 Warnings 
Keep out of reach of children.
NOT FOR USE BY INDIVIDUALS UNDER THE AGE OF 21 YEARS.
This product may contain ingredients that are banned by some sports organizations and/or increase risk of false positive on a drug test.
Please consult with your sport organization or physician before taking this product.