Roll over image to zoom in
Description
The Extreme Pre-Workout - Blackstone Labs Dust X
One of the best pre-workouts out now, Dust X has earned its title as DMHA king! If you are looking for something that has great taste and kicks you in the butt, you are looking at the right product! But be careful, this isn't for the weak-hearted.
Dust X is one of the most popular pre workouts in the bodybuilding world because of its amazing flavors and specially picked ingredients, not to mention the DMHA. If you also need and or want to get those insane pumps, this is the perfect formula for you. All in one focus and energy formula with ingredients to give you those long lasting pumps. Get ready to be the most focused during your workouts! 
Blackstone Labs Dust X Benefits 
Intense Energy
Boosts Power
150mg Of DMHA 
Enhanced Focus 
Enhanced Endurance
Long Lasting Energy
Was Dust Extreme
New Flavoring
Insane Pumps
Blackstone Labs Dust X Flavors
Passion Fruit
Pineapple Mango
Sour Gummy Bear
Cotton Candy
Candy Apple
Cool Lime
Blackstone Labs Dust X Key Ingredients 
Beta Alanine
DMHA
Agmatine Sulfate
Caffeine Anhydrous 
Citrulline Malate 2:1
Blackstone Labs Dust X Vs. Blackstone Labs Dust Extreme 
Both of these Blackstone Labs pre-workouts are extreme and intense. But the biggest difference between Dust X and Dust Extreme is that Dust Extreme had DMAA and has been discontinued, while Dust X has DMHA, the sister component. Dust X now has more enhanced flavors than the Dust Extreme did. 
How Do I Take Blackstone Labs Dust X?
Mix 1 scoop with 8-10 ounces of Water 30 mins before working out. Try taking 1/2 a scoop until your body knows its tolerance. 
Blackstone Labs Dust X Ingredients 
Serving Size: 1 Scoop
Servings Per Container: 25
Citrulline Malate 2:1 4g

Beta Alanine 2.5g
Agmatine Sulfate 1g
L-Tyrosine 1g
Dimethylaminoethanol 750mg
Phenylethylamine 500mg
Caffeine Anhydrous 350mg
2-Aminoisoheptane (DMHA) 150mg
Nelumbo Nucifera (Standardized For Higenamine) 75mg
Huperzine A (Huperzia Serrate) (Moss) 300mcg
Other Ingredients:  Maltodextrin, Citric Acid, Erythritol, Natural & Artificial Flavours, Sucralose, Silicon Dioxide. 
Blackstone Labs Dust X Side Effects & Warnings
Keep out of reach of children. This product should not be taken by individuals under 18 years of age. Consult a Licensed Health Professional before taking this product. Do not consume any type of Caffeine while taking this. If any effects occur, contact a Professional Health Care Provider. Do not take more than recommended dosage. 
Customer Reviews
Write a Review
Ask a Question
Filter Reviews:
stuff
workout
energy
experience
scoop
concentration
Best
pumps
crash
focus
07/02/2020
Fabricio P.
United States
Excellent
The best pre workout I ever tried !
06/03/2020
Joseph B.
United States
Was good but expected more
Product was not as strong as expected it to be
04/01/2020
John K.
United States
Amazing stuff, alot like the old Jack3d
So far I've had better use from this stuff than Total War, C4, MP Assault, and Hyde. Definitely going to keep purchasing this as long as it's available!
03/20/2020
Casey C.
United States
Good stuff
Good stuff. Great energy. Would buy again.
02/07/2020
Rob M.
United States
Best Pre Ever
This has been by far my favorite preworkout that I've ever taken. Consistent workouts, great pumps, and incredible results. This stuff is the real deal!
02/05/2020
Anthony C.
United States
Excellent
Good energy and great focus.
01/30/2020
Cassandra S.
United States
Gives great boost without shakes
This pre-work out gives a great boost without making you jittery. Taste isn't bad for most of the flavors. Only bad thing is sometimes the product gets hard and you have to scrape it out of the can.
01/16/2020
William M.
United States
Incredible focus, no shakes
Absolute best. Extremely singular, focused energy in the gym. Able to nap by the time I got back. So far? Perfect. Pacing myself with this product and absolutely loving it
01/13/2020
Pete H.
United States
Strong
Very potent. Hits you hard, I recommend especially if you mix cardio in and want to sweet
12/22/2019
Bryan G.
United States
Awesome focus!
Dust X was everything I was hoping it would be. I felt great focus, energy, no crash after, and pretty good taste besides. I've used several kinds of pre workout but honestly have to say this is my favorite one so far.
12/09/2019
Dale B.
United States
12/05/2019
jroop702 f.
United States
DUUUUUDE!!!
Just got this in the mail today. A day early I will say. Took a scoop before I went to work to test it out......WHOA! Can't wait to hit the gym with this in the system. Should have ordered a two or three while they were still on sale last week. Got the candy apple flavor. Not terrible.
11/27/2019
John K.
United States
I love this so much, basically liquid power.
Focus, energy, and the dat tingle. So much better than the preworkouts I'm used to. Reminds me of the old Jack3d recipes. Great vasodilation, and definitely gets the heart pumping if you're trying to cut. Minor appetite suppressant as well, at least from my subjective opinion. Will be ordering this for as long as it's still out.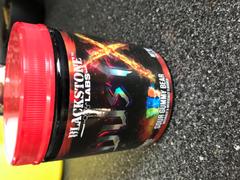 11/08/2019
Joseph M.
United States
Works well
Product works well and is well priced
10/24/2019
Tom N.
United States
Amazing
Not too strong nor too weak. Keeps me going mentally during my longer workouts
10/07/2019
Kevin V.
United States
Best PWO in the market
Only preworkout that works for me.
08/21/2019
Dustin C.
United States
First time order
Order came actually face considering I live all the way in Hawaii I really like dust x but when it came in it was a bit clumps which is fine because other products depending on flavor it could cause clumps. I like my experience with this store and will be returning to try out more products.
08/03/2019
Lakota W.
United States
**** yeah!
Really felt like I could keep going during my workout after one full scoop. It will definitely have your attention after consumption( if not during consumption). And after training I still felt it. Love it!
Dust X passionfruit
The taste is very strong, but I use pre workouts for the effects not taste. This pre workout works wonders for extra reps and heavy lifting overall. It also has a very smooth ride with little crash. Amazing product
Definitely in my top 3
I have tried many many pre workouts over the years and since DMAA has since gone this is easily one of the best pumps I've gotten not to mention the focus. Sometimes I get home and am still ready for another workout an hour later. It is very potent. Highly Recommend giving this a try while the formula is where it's at since it's about to get changed soon.
Payment & Security
Your payment information is processed securely. We do not store credit card details nor have access to your credit card information.