Roll over image to zoom in
Description
LG Sciences Cutting Andro Kit
Six Week Prohormone Cycle Kit with PCT!
LG Sciences is known for some of the best prohormones on the market today. They are non-liver toxic (non methylated) and don't have the harsh side effects that the prohormones or the past all had. If you are 21 years or older, the Cutting Andro Kit is the perform prohormone cycle to get that ripped physique you have been working for.
This kit will help get your ripped and get that "cut" look that you see in all the magazines. If you have the diet down, and you have the workouts down, then all you need to do is add this kit to hit your goals. This is the best combination of the right prohormones to achieve your goals.
Benefits & Results of the Cutting Andro Kit
Non Methylated so Safe on the Liver
Best for Males Over 21
Increase Lean Muscle Mass
More Fat Burning
Improved Strength & Power Output
Everything You Need for a Complete Cycle
Directions & Dosage
Week 1-4
Take evenly throughout the day. Best to be taken on an empty stomach.
Epiandro 3X/Day
1-Andro 2X/Day,
17-Proandro 2X/Day
Week 5-6
Take 8-12 hours apart. Best to be taken on an empty stomach.
Form-XT 4X/Day: 1 Dose in the morning, 1 dose in the afternoon, & 2 doses in the evening/bedtime.
Supplement Facts (6 Week Cycle)

EpiAndro

Serving Size: 1 Tablet
Servings per Container: 90

Proprietary Blend
Epicatechin 90% 80mg
Epiandrosterone (from Pine Pollen) 50mg

1-ANDROSTENOLONE

Serving Size: 1 Tablet
Servings per Container: 60

3b-hydroxy-androst-1-ene-17-one 20 mg 50mg

17-ProAndro

Serving Size: 1 Tablet
Servings per Container: 60

Proprietary Blend
17beta-[1-ketoethyl]-androstane-3-one, 50mg
Epicatechin 90% 50mg

Form XT

Serving Size: 1 Tablet
Servings Per Container: 90
 
Proprietary Blend     
androsta-3,5-diene-7,17-dione 20mg
resvetatrol (trans) 25mg

Epicatechin 90% 50mg

Allergen Warning: Made in a facility that may process: dairy, peanuts, tree nuts, wheat, fish, barley and shellfish.
Warnings & Side Effects
Discuss use with your doctor before taking if you have a medical condition or are taking any prescription medications. Do not use if you are pregnant or nursing. You must be 21 or older to use this product. Do not ingest more than the suggested serving per day, as this may result in negative side effects. Stop use and discuss with your doctor if you experience any adverse effects. Keep away from children.
Customer Reviews
Write a Review
Ask a Question
Filter Reviews:
levels
progress
strength gains
same
side effect
andro
liquid
Little
luck
cycle
09/06/2020
Shaytoon504
United States
Solid results
Coming to the end of the cycle. Weight has remained the same but 4 inches dropped off waist. Strength gains are amazing. Pushes you to workout to intense levels and recovery is quick. I notice I'm moody... definitely the worst side effect. Liver enzymes were mildy elevated. ( very slightly over normal levels. This goes away once cycle off). I've gotten numerous comments about how bulky and muscular I look lately. Overall it does what its suppose to. You need to be aware of your mental health however. Good luck! I will definitely run this cycle again in a few months.
04/07/2020
Don C.
United States
Very Good
Liked the progress I seen.
No longer the liquid.
Little upset its no longer the liquid, but the pills seem to be working good. I used 300kg of 1 andro on top of this and im pleased with the results.
Cutting Android cycle
2 weeks in and 10 lbs heavier. Hungrier and hornier than ever. Liver stings, so I bought liver guard from gnc. Definitely feel stronger, but also winded easier. Don't **** as often even though I'm eating more. Don't understand the cutting part because I'm gaining. Believe my blood pressure is elevated also. Hopefully it's just water weight. Not clear if I like this as much as the bulking, but that was also 3 years ago, could be different. To early to tell.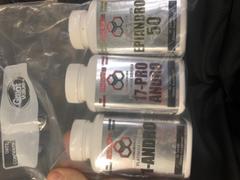 Great results
I love this product, get a great hardening result and leaner look.
Not good
I feel it was over priced for something that didn't work and now I can't return it. BIG WASTE OF MONEY
Works as advertised
I needed to get shredded pretty quick so I decided to give it a try. Solid results. Keep it up.
Nice
This kit is really good. Exceeded expectations. Good results.
Thanks for the feedback Eddie. Glad the Cutting Andro Kit worked well for you!
Payment & Security
Your payment information is processed securely. We do not store credit card details nor have access to your credit card information.