Roll over image to zoom in
Description
Hi-Tech Pharmaceuticals Hydroxyslim | Weight Loss Support Supplement
HydroxySlim Results
Boosts Of Energy
Increased Metabolism
20mg of Ephedra Extract
Boosts Mood
All Day Energy
Thermogenic Feeling
Comparable to HydroxyCut
When HydroxyCut left the market, most bodybuilders and fitness gurus were wondering what to take? How can we all burn off fat and look the way we want to? Well, never fear because this Ephedra powerhouse supplement is the next fat burner that is comparable to HydroxyCut and is all natural! Get Hi Tech Pharmaceuticals HydroxySlim today!
How Does HydroxySlim Work?
HiTech Hydroxyslim is one of the best fat burners in the market today 20mg of Ephedra Extract! This fat burner will give you that thermogenic feeling and boost your metabolism so you will lose fat while not doing too much. It will turn your body into an oven and aid in fat loss! 
On top of that, this incredible formula is all natural. Only using the strongest plant based ingredients, you get all you need from a fat burner! Things like Green Tea Extract for energy, Yohimbe Extract for all day energy and hunger suppression and even Guarana Extract for that 200mg of caffeine! 
If you are looking for an intense fat burner that has natural ingredients and ephedra extract, you've found exactly what you need. 
Hydroxyslim Key Ingredients 
Ephedra Extract
Green Tea Extract
Guarana Extract
White Willow Bark Extract
Yohimbe Extract
Hi-Tech Pharmaceuticals HydroxySlim Directions
Take 2 capsules two times a day with meals. Do not exceed 4 capsules daily. 
Hi-Tech Pharmaceuticals HydroxySlim Ingredients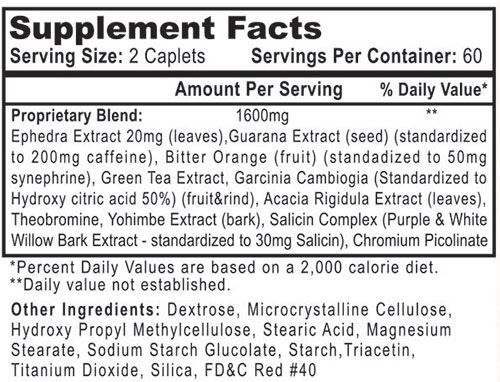 Side Effects & Warnings
Not for persons under the age of 18. Do not use if your pregnant or wanting to be. Persons who take caffeine with this product will experience health effects. If you are sensitive to caffeine, consult with health care professional before taking. Do not exceed recommended dosage.