Roll over image to zoom in
Description
MHN Arez Titanium 25/sv | Pre-Workout Supplement w/ DMHA
Arez Titanium is known for its four key ingredients; L-Citrulline, Beta Alanine, Agmamite Sulfate and Synephrine HCL. L-Citrulline serves as an endogenous (naturally occurring) precursor to Arginine, thereby enhancing nitric oxide synthesis through what is known as the arginine-nitric oxide pathway. Many believe L-Citrulline to be the strongest/most proven pump inducing ingredient of all time. Beta Alanine has become a rising-star due to studies claiming that it raises muscle carnosine levels, and increases the amount of work that can be performed at high intensities. It induces an addictive "tingle" when it kicks in, and will offer you the endurance to push through when you'd normally want to call it quits. Agmatine Sulfate is a powerful L-Arginine byproduct that has been shown to promote muscle pumps, transport nutrients, and increase blood flow! It may promote fast-twitch performance, and is also a potent anti-fatigue agent. Synephrine offers a myriad of benefits! These include: increased metabolic rates, increased caloric expenditure, increased energy levels, and a promotion of fat loss! It acts as a stimulant, similar to caffeine, except with stronger appetite suppressing properties, and a stronger rush of energy. Synephrine instantly levels-up the stimulant profile of ANY Pre-Workout that it can be found in.
Benefits
Super-Human Focus
God-Like Energy
Mind Blowing Pumps
Unbelievable Flavor
Directions
Assess tolerance with 1 scoop mixed with 5-6oz of water. Depending on tolerance, mix 1 serving (2 scoops) within 10-12oz 30 minutes of training. Do not exceed 2 scoops.
Ingredients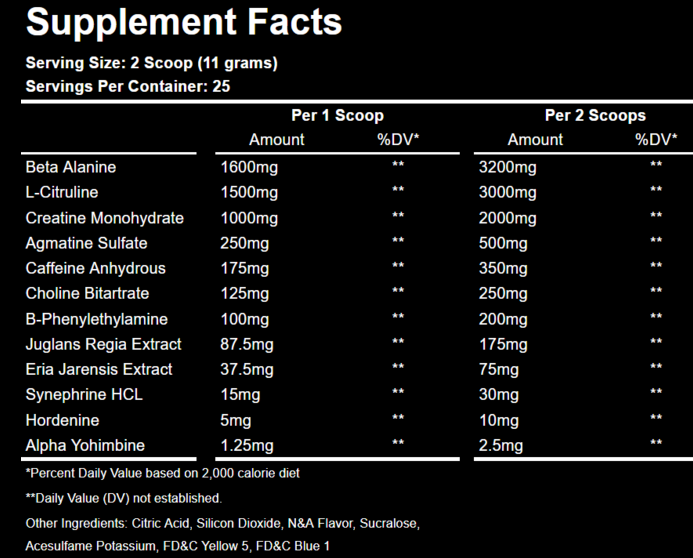 Warnings
THIS PRODUCT IS ONLY INTENDED TO BE CONSUMED BY HEALTHY ADULTS 18 YEARS OF AGE OR OLDER. DO NOT USE THIS PRODUCT IF YOU ARE PREGNANT OR NURSING. DISCONTINUE USE AND IMMEDIATELY CONSULT YOUR HEALTH CARE PROFESSIONAL IF YOU EXPEREIENCE ANY ADVERSE REACTION TO THIS PRODUCT. DO NOT EXCEED RECOMMNEDATIONS FOR SUGGESTED USE. DO NOT USE IF SAFETY SEAL IS BROKEN OR MISSING. KEEP OUT OF THE REACH OF CHILDREN.
Customer Reviews
Write a Review
Ask a Question
I recommend this product
Disappointed
No special kick for a "high stim" pre. Way overpriced for the effects.
06/03/2022
Michael

United States
I recommend this product
Not the hard hitter I thought
Wasn't terrible but definitely not the hard hitter I was expecting. Not much tingle, energy was short lived and felt like a nap afterwards.
10/30/2021
Felix M.

United States
WoW!!
This $hit is strong AF!!